Considering the current COVID-19 climate and chaos, this first interview will be a short self-questionnaire. To give visitors a more in-depth understanding of my literary preferences, I hope that this will provide a snapshot of my interests:
The most interesting aspect of Modernist literature: the variety of innovative and stylistic techniques that William Faulkner, Virginia Woolf, Ernest Hemingway, and Dorothy Richardson (to name a few) employed.
Favorite books from the 20th century: Look Homeward, Angel by Thomas Wolfe; The Sound and the Fury by William Faulkner; and A Farewell to Arms by Ernest Hemingway.
Favorite short-story collections from the 20th century: Winesburg, Ohio by Sherwood Anderson and Nightwood by Djuna Barnes.
Modernist books on TBR list that have been on it for too long: Of Human Bondage by W. Somerset Maugham, The Enormous Room by E.E. Cummings, The Autobiography of Alice B. Toklas by Gertrude Stein, and John Dos Passos's U.S.A. trilogy.
Remarkable Modernist tomes: Dorothy Richardson's Pilgrimage works and James Joyce's Ulysses.
Modernist women writers I'm eager to read: Jean Rhys, May Sinclair, Dorothy Richardson (more of her), Mary Butts, Pearl S. Buck, Rosamond Lehmann, Radclyffe Hall, and too many more.
Modernist individuals that I think should be discussed more: Dorothy Richardson, Sylvia Beach, Thomas Wolfe, and Sherwood Anderson.
Some things about Modernist writing that I want to learn more about: little magazines, such The Criterion, Little Review, and The Egoist. Also, the literary influences of Modernist writers.
To add to my response from #8, pictured is a reading list that Ernest Hemingway wrote for a fledgling novelist in 1934. I reflect on this list often, as it is what sparked my interest in learning more about which writers influenced other writers. What is captivating about this extant list is that it not only allows us to see which books a well-known author read, but also which books that Hemingway felt are compelling enough to influence the way that one writes. Some of the books on the list played a direct role in Hemingway's writing process. The Oxford Book of English Verse, for example, was a source that he leaned on when deciding upon titles for his books.
In a book review for the New York Times in 1935, C.G. Poore wrote a review for Hemingway's Green Hills of Africa. Here, Poore touches on the parallels between W. Somerset Maugham (whose novel Of Human Bondage is on Hemingway's list) and Hemingway: "No other contemporary writer except Somerset Maugham has written so much about writing in books about other things. And with both of them those passages are apt to be among the most bracing stuff in their books." Poore also quotes Hemingway on his opinions of other writers: "'The good writers […] are Henry James, Stephen Crane, and Mark Twain. That's not the order they're good in. There is no order for good writers.'" Looking at the list, James and Crane's names are etched on there.
Despite Twain not making it onto Hemingway's crafted list, Hemingway is known for proclaiming that "All modern American literature comes from one book by Mark Twain called Huckleberry Finn. It's the best book we've had. All American writing comes from that. There was nothing before. There has been nothing as good since." This statement, however, provokes the question why Hemingway left Huckleberry Finn from the list.
Thus, the list opens many more questions. Did Hemingway try to model his style after any of these writers? Are there any themes he took from these books and applied to his own work? Did he possibly dislike any of these books, but found them integral in understanding how to be a good writer? Why are certain books by a singular author chosen over his/her other works (Dubliners is listed rather than A Portrait of the Artist as a Young Man or Ulysses)?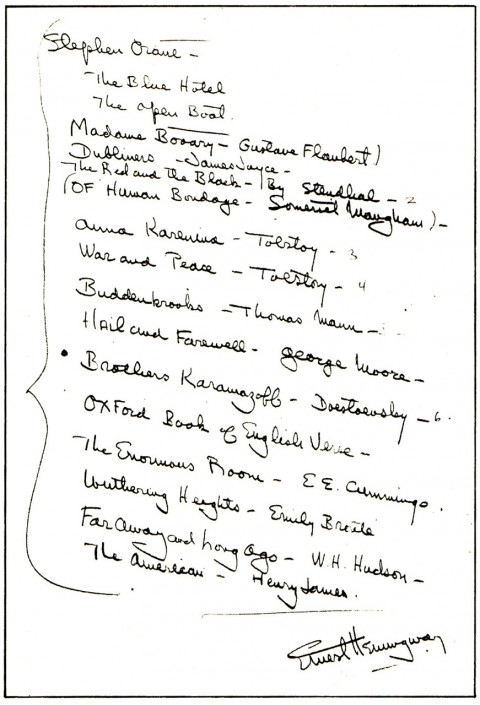 Links:
Photo credit: http://www.openculture.com/2013/05/ernest_hemingways_reading_list_for_a_young_writer_1934.html
Poore: http://movies2.nytimes.com/books/99/07/04/specials/hemingway-green.htm